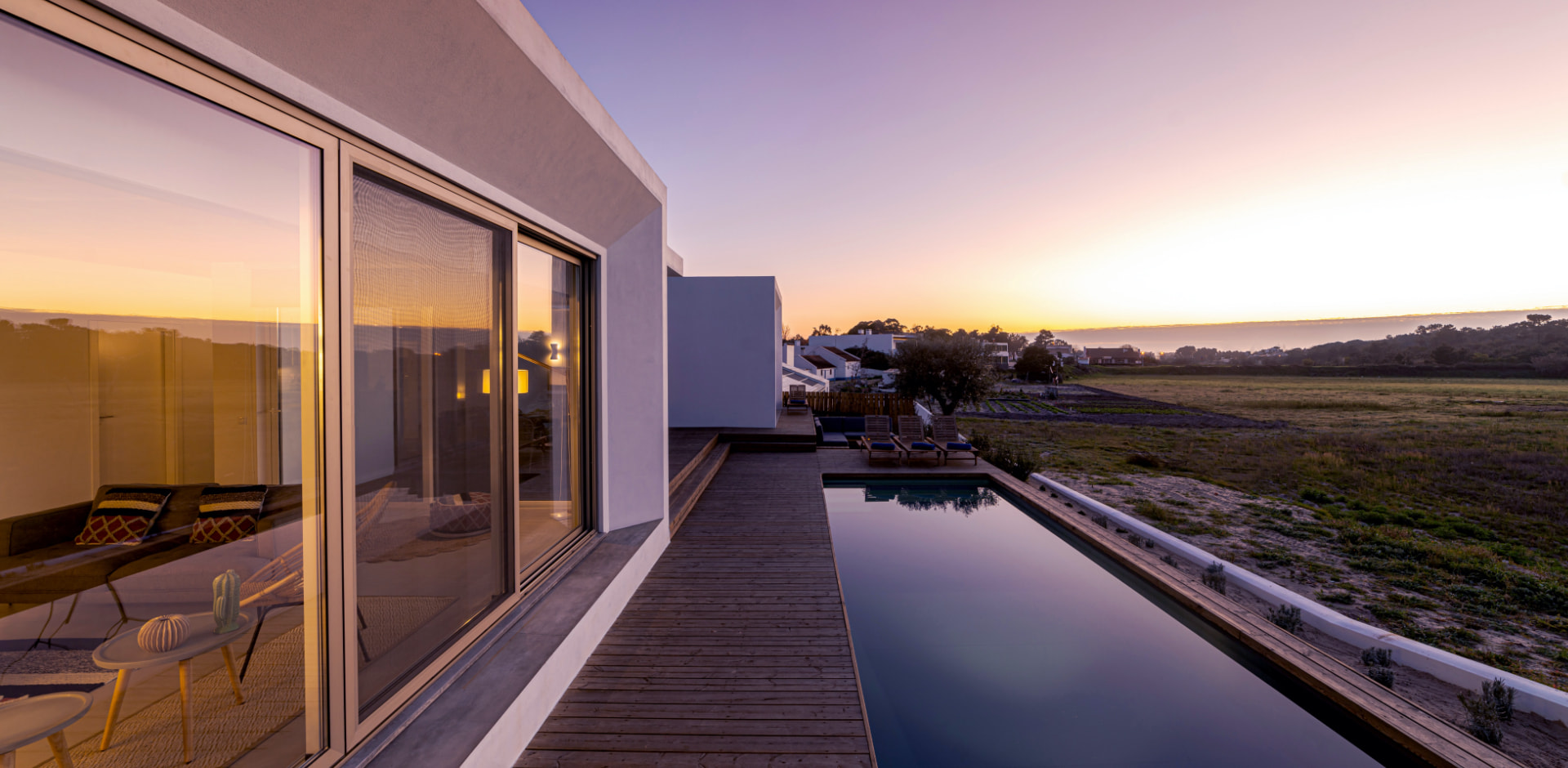 DECOSPATIO
innovation adapted to architects
and ultra customizable projects

Breathtaking proportions as for a future with vision
The system offers large glass surfaces to benefit from more light and transparency, as well as greater freedom in terms of design. As for the interior, it convinces by the unitary appearance, without rods, while on the outside, the hidden sash emphasizes the impression of general harmony.
Less is more as for a future of design
Whether with fully visible, half-covered or even invisible window frames, the system creates proportions that leave a lasting impression. Fully concealed hinges, suitable for a minimalist design, emphasize the texture and the color of the window. The unique quality of the surface is due to the exclusive Acrylcolor technology from the outside. DecoSpatio design thus expands the possibilities when designing a modern property and opens up completely new perspectives.
Gold number 100mm as for a home like in art catalogues
As for the interior, DecoSpatio convinces by its unitary appearance, without rods, while on the outside, the hidden sash emphasizes the impression of general harmony. The depth of 100 mm and the increased glazed surface both in the door frame-sash package and at the level of the floating mullion, give high visibility from the inside and flowing contours, the sash and the glass being perfectly glued together.
The gold percentage of 100% excellent as for any window to the future
Calota stabilă a garniturii împiedică accesul direct la componentele de închidere, crește rezistența în cazul încercării de efracție și protejează componentele de închidere împotriva umezelii și murdăririi.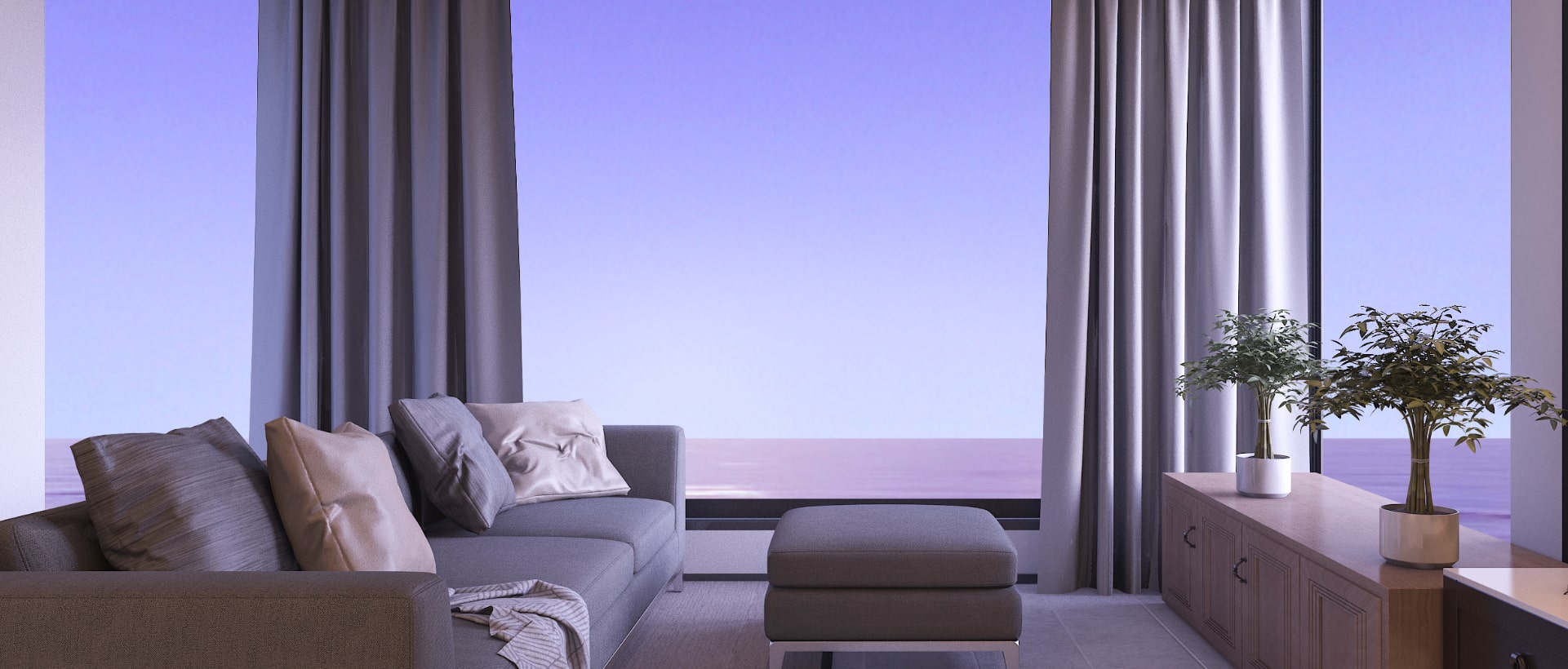 About the range
DecoSpatio
Through its clear contours, DecoSpatio gives you the feeling of ineffable perfection. It's hard to say why it's perfect but you know, intuitively, it's perfect. Formed exclusively of glass and made by innovative construction techniques and an intelligent profile geometry, which makes the exterior appearance of the sash profile completely hidden, DecoSpatio systems simultaneously respond to two imperatives – spectacular aesthetics and freedom of design in compliance with any technical requirement.
With symmetrical and aesthetic profile geometries, DecoSpatio demonstrates that essentialization has a timeless effect and is the key in obtaining a system with properties consistent with modern architectural language. With an incredible design depth of 100 mm, which also determines the perfect degree of thermal insulation, DecoSpatio gives a smooth interior view through a perfect alignment of the sash with the window frame, reinforcing the strong impression of overall harmony.
Impressive also in terms of price-quality ratio, DecoSpatio knows how to convince from the first to the last detail, harmonizing the good taste and stability of the system. A window system specially designed for those who think about the future with vision and appreciation.
Wide open spaces
DecoSpatio HST
Wide openings, without barriers!
The most comfortable way to enjoy a new way of life through large, barrier-free openings. Narrow profile views are minimized in the design version and guarantee a maximum incidence of light in the fixed part.
Excellent thermal insulation: Profiles with 5 highly insulating chambers, with a Uf value of up to 0.95 W / m2K and triple thermal insulation glass
Barrier-free: Standard sill without barriers and very insulating with optimal tightness values.
Reliable rigidity and stability: Large reinforcements ensure high rigidity and long-term functionality.
Optimal sealing: Circumferential seals and high-quality seals ensure a high level of air, wind and rain sealing.
Convenience and technology of the user at the highest level
DECO lifting and sliding doors are highly recommended as a space-saving solution for very large doors. With precise guidance of the door sash at the top and bottom, they can be open and closed to the sideways very easily. It also ensures efficient thermal insulation, maximum impermeability, exceptional stability and a safe deterrent to burglary.
As part of the HST system, this lift and slide gives you ample space to express your individuality. This is because you can customize this lifting and sliding door to meet your needs exactly in terms of appearance, safety and comfort with the individual elements from the lines of additional accessories and design.
Sound and Thermal insulation
U value for lifting and sliding doors at Uw = 0.8 W / (m2K)
U value Uf = 1.3 W / (m2K)
Sound insulation value for windows at Rw = 42 dB
Installation depth 86 mm
Preventing burglary RC1, RC2
Barrier-free access
Can be converted into an entrance door (lockable with profile cylinder)
Maximum sash dimensions 3,000 mm x 2,700 mm
It allows large door openings
Space saving
Light flooded rooms are created
Very good static properties
Burglary resistant design
Comfortable and easy to use
Customizable design options and equipment
No annoying door sill
Age and disability – accessible by crossing without barriers
High tightness
Possibilities of thermal insulation until the adequacy of the passive house
It can be put in place in different models and versions of opening
Integration of night ventilation

The high-tech FIPRO X material makes the system extremely powerful and convinces through a unique global concept. DecoSpatio Fipro X is a fiber-reinforced profile system made of high-tech FIPRO X.
For example, fiber composites already offer high performance in aircraft construction and in Formula 1 under extreme loads. With FIPRO X, this technology is now used for the first time on the window market.
Due to the special high-tech material, DecoSpatio Fipro X is extremely powerful. While a steel core ensures stability in conventional plastic windows, this system is inherently stable due to FIPRO X. Steel reinforcement can be removed in 90% of the applications. This means that there is no heat conductor through which expensive energy is released outdoors without being used. Thus, DecoSpatio Fipro X reaches top values in terms of thermal insulation and comfort.
The revolutionary high-tech FIPRO X material allows insulation values of up to Uf = 0.86 W / m2K. Together with triple glazing (Ug = 0.6) windows, DecoSpatio fipro X Windows reach UW peak values up to 0.75 W / m2K.
If you want something more: DecoSpatio Fipro X is also available as a passive house version, officially certified by the Passive House Institute of Darmstadt.
Thermal insulation window profile: Uf = up to 0.98 W / m²K (standard)
Uf = up to 0.86 W / m²K (with thermal modules)
Uf = up to 0.79 W / m²K (passive house certificate)
Construction depth: 86 mm / central gasket
Number of chambers: 6-chamber system
Energy saving: up to 76% *
Sound insulation: up to Rw, P = 47 dB (sound insulation Class 5)
Air permeability: 4 (DIN EN 12207)
Water tightness: 9A (DIN EN 12208)
The windows are the same as any other product: the quality is presented in detail. Easy-care, low-maintenance: Thanks to the high-quality HDF surface, you can remove dirt quickly and easily with conventional household products. No more maintenance is required, only a few drops of oil for fittings and a little silicone for gaskets from time to time. Easy opening and closing: The newly developed sealing concept ensures optimized closing pressure. Because GENEO does not usually have to be reinforced with steel, the weight of the sash is significantly lower than that of other windows.
X-tra large: 10% larger items.
X-tra effective.
X-tra strong.
X-tra sure.
X-tra durable.
Best light and visibility: RAU FIPRO X creates the basis for expansions for unprecedented size extensions due to 50% more fiberglass in the window.
In this way, even window elements with floors up to 2.80 m can be reliably implemented – without additional skylights. The result: even more natural light and greater architectural freedom for a unique sense of life.
Particularly thin profiles also increase the window areas. Noise reduction by 24 times. Noise means stress – and no one wants this in their home. With a noise reduction of up to 24 times higher, your home becomes an oasis of calm.
technical information
Technical innovations present in the system
Integrated intensive thermal insulation IKD® – "Intensive-Kern-Dämmung"
Thanks to this procedure of improving thermal insulation, made of recyclable foam, the system achieves the best thermal insulation coefficients, being indicated for dwelling. The additional dome of the seal cover increases resistance in the event of a break-in attempt and protects the sealing components against switching or moisture.
STV® bonding technology – dry static bonding
Unlike the wet processing, this technology involves directly gluing the profile frame / sash with the glass sheet to ensure stability and high thermal insulation.
Construction depth 100 mm, increased sealing: 3 seals. heat transfer coefficient from 0.72 W / (m2K)
Burglary protection up to RC 3
Large size steel fittings with thicknesses up to 3 mm and special glass bonding technique (STV)
Package of 3-layer insulating glass, 48 mm thick, sound insulation up to Rw, P = 50dB
Design-oriented system with invisible sash on the outside, specially created for maximum glazed surfaces
Full option package
Premium Quality
DecoSpatio
based on criteria:
functionality, safety, durability, aesthetics, insulation & invested value
High package
100% custom
DecoSensio
based on criteria:
functionality, safety, durability, aesthetics, insulation & invested value
Full option package
High quality
DecoVisio
based on criteria:
functionality, safety, durability, aesthetics, insulation & invested value
based on criteria:
functionality, safety, durability, aesthetics, insulation & invested value